Greek postal codes
The Greek system is administered by Postal Code ELTA (Ελληνικά Ταχυδρομεία, Hellenic Post). Each street of the city or rural area has a unique five-digit number. The first three digits identify the city, municipality or prefecture. In large cities, the last two digits identify streets or parts of streets. [1]
ZIP codes beginning with the digits between 100 and 180 are used for the city of Athens, the beginning sequences 180-199 are used for other parts of the prefecture of Attica, with the exception of Corfu and Rhodes.
A complicated system links the numbers used for second and third digits of the numbers used in the fourth and fifth fingers.
1. In less populated areas, the third digit is always 0, while the last two digits identify municipalities in the prefecture. Because there are fewer municipalities in these regions, the final two digits do not usually exceed 50 or 60.
2. In areas with a larger population, the third digit may climb as high as 6 or 8, while the fourth and fifth fingers may also be higher.
3. In large cities, the third digit is a 0, but ranges from 1-9. If it is 8 or 9, the fourth and fifth digits also reach a larger number such as 80 and 99.
The sequences from the 900 are not used.
All postal codes in Greece are consists of five numerical digits. Until 1983 the three-digit local systems existed in Athens and other cities.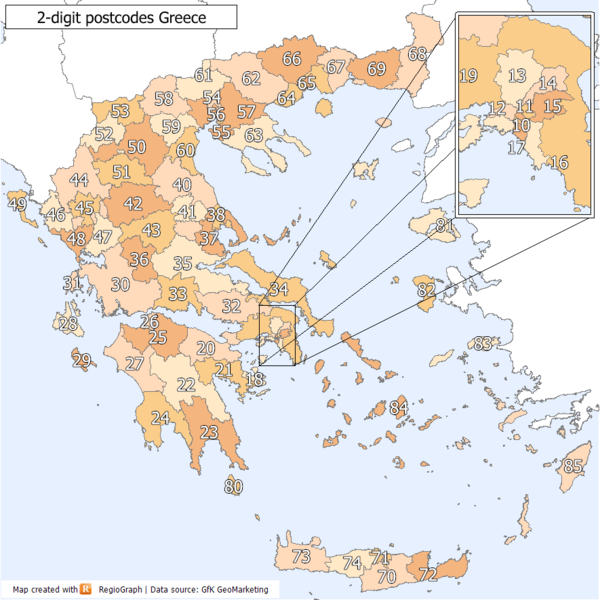 100s: Athens Metropolitan Area
100: Athens
101: Athens
102: Athens,platamon
103: Athens
104: Athens, southwestern part and Omonoia Square
105: Athens, near the National Bank of Greece and Kotzia Square, central part
106: Athens, around Panepistimiou Street, eastern part
107: Athens
108: Athens
109: Athens
110: Athens
111: Athens, Galatsi (centre)
112: Athens
113: Athens
114: Athens, northeastern part
115: Athens, Ampelokipoi, Psychiko
116: Athens
117: Athens
118: Athens
119: Athens
120: Athens
121: Athens, Peristeri
122: Athens, Aigaleo
123: Athens, Agia Varvara
124: Athens, Chaidari
125: Athens
126: Athens, Peristeri
127:
128:
129:
130:
131: Ilio
132: Petroupoli
133: Ano Liosia, Fyli
134: Kamatero, Zefyri
135: Agioi Anargyroi
136: Acharnai
137:
138:
139:
140:
141: Heraklio, Lykovrysi
142: Nea Ionia
143: Nea Chalkidona, Nea Filadelfia
144: Metamorfosi
145: Agios Stefanos, Anixi, Dionysos, Drosia, Ekali, Kifissia, Kryoneri Kifissias, Rodopoli
146: Nea Erythraia
147:
148:
149:
150:
151: Maroussi, Pefki
152: Chalandri, Filothei, Nea Penteli, Penteli, Vrilissia
153: Agia Varvara, Anthoussa, Gerakas, Glyka Nera, Palini
154: Agia Paraskevi, Psychiko, Neo Psychiko
155: Cholargos
156: Papagos
157: Zografou, University of Athens
158:
159:
160:
161: Kaisariani
162: Vyronas
163: Ilioupoli
164: Argyroupoli
165:
166: Agios Kosmas, Glyfada, Voula, Vouliagmeni
167: Ellinikon, Vari
168:
169:
170:
171: Nea Smyrni
172: Aigaleo, Dafni, Hymittos
173: Agios Dimitrios
174: Alimos
175: Palaio Faliro
176: Kallithea
177: Tavros
178:
179:
180:

10: Aegina
20: Poros, Troizina
30: Methana
40: Hydra
50: Spetses

181: Korydallos
182: Agios Ioannis Rentis
183: Moschato
184: Nikaia
185: Piraeus
186: Drapetsona
187: Keratsini
188: Perama
189: Salamina and Ampelakia Salaminas
190:

01: Keratea
02: Paeania
03: Kouvaras, Markopoulo Mesogeias
04: Spata-Loutsa
05: Nea Makri
06: Vilia
07: Grammatiko, Marathon
08: Erythres
09: Pikermi, Rafina
10: Kalyvia Thorikou
11: Avlona, Malakasa
12: Nea Peramos, Oinoi, Pyli
13: Anavyssos, Palaia Fokaia
14: Afidnes (Aphidnae), Kapandriti, Polydendri, Varnava
15: Markopoulo Oropou, Oropos, Saronida, Skala Oropou, Sykamino
16: Artemida
17: Kalamos

191: Megara
192: Eleusis
194: Kropia
193: Aspropyrgos
195: Lavreotiki, Agios Konstantinos
196: Magoula, Mandra
197-199: omitted
200s: Peloponnese and the southern Ionian
200: Corinthia except for Alea, Corinth, Loutraki, Sikyonies and Xylokastro

01: Zevgolateio
02: Velo
03: Agioi Theodoroi
04: Solygeia
05: Saronikos
06-07: omitted
08: Tenea
09: Evrostyni
10: omitted
11: Assos-Lechaio
12-13: omitted
14: Feneos
15: omitted
16: Stymfalia
17-99: omitted

201: Corinth
202: Sikyonies
203: Loutraki
204: Xylokastro
205: Alea, Nemea
206-209: omitted
210:

00-50: omitted
51: Ermioni
52: Asklipieio
53: Nea Kios
54: omitted
55: Midea
56: omitted
57: Achladokampos
58: Lyrkeia
59: Epidavros (Epidaurus)
60: Asini
61-99: omitted

211: Nafplio, Nea Tiryntha
212: Argos, Myli, Mycenae
213: Kranidi
214-219: omitted
220:

01: North Kynouria
02: Levidi
03: Lagkadia
04: omitted
05: Mantineia
06: omitted
07: Dimitsana
08: Tropaia
09: omitted
10: Vytina
11: omitted
12: Tegea
13: omitted
14: Kleitor
15: Kontovazena
16: Skyritida
17-20: omitted
21: Falaisia
22: Gortynia
23-26: omitted
27: Valtesi
28: Irea
29: Apollonas

221: Tripoli, Greece, Davia, Korynthos
222: Megalopoli
223-229: omitted
230:

01 – 50 not used
51: Skala, Laconia
52: Molaoi
53: Voies (Vatika), Elafonisos
54: Faris
55: Elos
56: Asopos
57: Krokees
58: Geronthri
59: Pellana
60: Niata
61: Smynos
62: Oitylo
64: Inountas
65 – unknown
66: East Mani
67: Karyes
68: Zarakas
70: Monemvasia
71 – south Mani Peninsula
72 through 99 – not used

231: Sparta, Mystras, Therapnes
232: Gytheio
233-239: omitted
240:

01: Chiliochoria, Pylos
02: Ithomi/Ithome, Meligalas, Oichalia
03: Aetos
04: Koroni
05: Petalidi
06: Methoni
07: omitted
08: Andania
09: Thouria
10: Epia
11: Dorio
12: Aris
13: Androusa
14: Papaflessas, Voufrades
15: Aristomenis
16: Avia
21: Avlonas
22: Lefkro

241: Kalamata
242: Messene
243: Filiatra
244: Gargalianoi
245: Kyparissia
246: Nestoras
247-249: omitted
250:

01: Kalavryta
02: Vrachneika and area
03: Diakopto
04: Paos, Dafni
05: Movri
06: Akrata
07: Lefkasio
08: Chalandritsa, Farres
09: Erineos
10: Aigeira
15: Erymantheia
16: Aroania

251: Aigion area, Rododafni
252: Kato Achaia, Municipality of Dymi, Alissos, Olenia
253:
254:
255:
256:
257:
258:
259:
260:
261: University of Patras, Patras (downtown), Rio
262: Patras
263: Patras, Paralia
264:
265: Messatida area, Patras, Paralia
266: Patras
267:
268:
269:
270: Varda, Lampeia

50: Arkoudi, Kastro, Thermal Springs of Kyllini, Vartholomio
51: Andravida
52: Vouprasia area, Lappa, Metochi, Larissos
53: Lechaina and the municipality
54: Zacharo
55: Skillounta
56: Figaleia
57: Tragano
58-61: omitted
61: Andritsaina, Ira
62: Alifeira and Dafnoula
63: Lampeia
64: Oleni
65: Olympia
66: Foloi
68: Kastro-Kyllinis, Glyfa
69: Pineia, eastern part of Amaliada

271: Pyrgos and area, westcentral Ileia, Iardanos
272: Amaliada
273: Gastouni and Kalyvia
274-279: omitted
280: Fiskardo, northern and eastern Kefallinia

00-79: omitted
80: Sami, eastern Kefallinia
81: Pylaris, Fiskardo, northern Kefallonia
82: southeastern Kefallinia
83: Leivathos
84:
85: Erisos
86: Poros area
87-99: omitted

281: Argostoli and area, most of southern Kefallinia
282: Lixouri, western Kefallinia
283: Ithaca
284-289: omitted
290: Zakynthos island except for the municipality and Arkadii.

90: Alykes, northern Zante
91: Elati, northwestern Zante
92: Artemisii, Lagana, southern and western Zante

291: Zakynthos/Zante, Arkadii, eastern Zante
292-299: omitted
300s: Central Greece, the Sporades and Lefkada
300:

01: Oiniades
02: Anaktorio
03-04: omitted
05: Thestieis (Aitoloacarnania)
06: Astakos
07: omitted
08: Thermo
09: Fyteies
10: Paravola
11: Arakynthos
12: Kekropia
13: omitted
14: Chalkia
15: Medeonas
16: Menidi
17: Inachos
18: omitted
19: Alyzia
20: omitted
21: Parakampylia
23: Apodotia
24-25: omitted
26: Pyllini

301: Agrinio, Neapoli, Panaitoliko
302: Messolonghi, Antirrio
303: Nafpaktos
304: Aitoliko, Angelokastro
305: Amfilochia
306-309 – omitted
310: Lefkada

80: Karya
81: Kastos island
82: Vasiliki
83: Meganissi

311: Ellomeno, Lefkada
312-319: omitted
320: Viotia

01: Aliartos
02: Thespies (Viotia), Vayia
03: omitted
04: Arachova
05: Distomo
06: omitted
07: Koroneia
08: Dervenochori
09: Schimatari
10: Thisvi
11: Oinofyta

321: Livadeia, Cheronia
322: Thebes, Akrefnio, Platees, Tanagra
323: Orchomenos
324-329: omitted
330: Phokida
330

01-48: not used
50: Desfina
51: Parnassos
52: Galaxidi
53: Lidoriki
54: Delphi
55: not used
56: Efpalio
57: Gravia
58: Tolofona
59-60: not used
61: Vardousia
62: not used
63: Kallieis
64-99: not used

331: Amfissa
332: Itea
333-339: not used
340: Euboea

01: Kafireas, Karystos
02: Lilantia
03: Kymi
04: Kireas
05: Elymnies
06: Amarynthos
07: Skyros
08: Eretria
09: Avlona
10: Nileas
11: omitted
12: Oreoi
13: Marmari
14: Dirfys
15: Styra
16: Konistres
17: Dystos

341 – Anthidona, Avlida, Chalkida
342 – Artemisio, Istiea
343 – Aidipsos, Lichada
344 – Messapia
345 – Taminaioi
346 – Nea Artaki
347 – 349 – omitted
350: Fthiotis

01 – Malesina
02 – Amfikleia
03 – Sperchiada
04 – Elatia
05 – Opountia
06 – Agios Konstantinos
07 – Dafnousia
08 – Kamena Vourla
09 – Molos
10 – Anavra in Magnesia, Domokos, Ypati
11 – Makrakomi
12 – omitted
13 – Pelasgia
15 – Tithorea
16 – Xyniada
17 – Agios Georgios Tymfristou, Tymfristos

351 – Lamia, Gorgopotamos, Leianokladi, Pavliani, Thessaliotida
352 – Atalanti
353 – Stylida, Raches Stylidas
354 – 359 – omitted
360 – Evrytania

00 through 69 – not used
70 – Aspropotamos
71 – Frangista, Viniani
72 – Aperantia
73 – Agrafa
74 – Prousos
75 – Potamia
76 – Domnista
77 through 79 – not used
80 – Fourna, Ktimenia

361 – Karpenisi
362 through 369 – not used
370 – Magnesia prefecture

00 – never used
01 – Zagora
02 – Skiathos
03 – Skiathos and Skopelos
04 – not used
05 – Alonissos
06 – Argalasti and Lafkos
07 – Pteleos
08 – Sourpi
09 – Trikeri
10 – Afetes and Milea
11 – Makrinitsa and Portaria
12 – Tsangarada
13 through 99 – not used

371 – Almyros
373 – Agria
374 – Nea Anchialos
375 – Feres, Karla
376 through 379 – not used
380 – Volos, downtown, central part
381 – Volos
382 – Volos
383 – Nea Ionia
384 – Nea Ionia, central part
385 – Artemida, Dimini, Iolkos and Keramidi
386 through 399 – not used
400s: Thessaly, Epirus and Corfu including southeastern Grevena
400 – Larissa prefecture, except for the Larissa area and central Larissa

01 – Antichasia
02 – Livadi
03 – Agia, Lakereia, Melivoia
04 – Gonnoi
05 – Verdikousa
06 – Makrychori, Nessonas
07 – Evrymenes and Kato Olympos
08 – not used
09 – Platykampos
10 through 99 – not used

401 – Tyrnavos, Avdelia, Smixi and Vlachogianni
402 – Elassona, Karya Olympou and Olympos
403 – Farsala, Enipeas, Kato Olympos, Narthaki
404 – Ampelonas
405 through 409 – not used
410 – Larissa
411 – Larissa
412 – Larissa
413 – Larissa
414 – Larissa
415 – suburban Larissa, Armenio, Giannouli, Koilada, Kileler, Lakeria, Nikaia
416 through 419 – not used
420 – prefecture of Trikala

01 through 29 – not used
30 – Megala Kalyvia
31 – Farkadona
32 – Athikes, Pyli and Pynda
33 – Myrofyllo
34 and 35 – not used
36 – Kastania
37 – Neraida, Messochora
38 through 99 – not used

421 – Trikala, Estiaiotida, Faloreia, Gomfi, Kallidendro, Koziakas, Paliokastro, Paralithis, Pelinnaioi, Pialeia and Aspropotamos
422 – Kalampaka
423 – Oichalia
424 through 429 – not used
430 – Karditsa, except Palamas and Sofades

00 through 59 – not used
60 – Mouzaki and Nevropoli Agrafon
61 – Pamisos
62 – Fyllo
63 – Tamasio
64 – Ithomi
65 – Argithea
66 – Acheloos
67 – Plastiras
68 – Rentina
69 – Athamanes
70 through 99 – not used

431 – Karditsa, Kallithiro, Kallifono, Mitropoli
432 – Palamas
433 – Sofades, Kedros and Matarangas Karditsas
434 through 439 – not used
440 – Ioannina prefecture except for the Ioannina area

01 – Pramanta, Kalarites and Matsouki
02 – Delvinaki
03 – Evrymenes, Molossi and Zitsa
04 – Ano Kalamas, Kalpaki
05 – not used
06 – Ano Pogoni
07 – Kentriko Zagori
08 – Fourka
09 – Derviziana
10 – Tymfi
11 and 12 – not used
13 – Katsanochoria
14 – Vovousa
15 – Aetomilitsa and Mastorochoria
16 – Papingo
17 and 18 – not used
19 – Distrato
20 through 99 – not used

441 – Konitsa
442 – Metsovo, Mikro Peristeri and Milea
443 through 449 – not used
450 – Ioannina
451 – Ioannina
452 – Ioannina and Sirako
453 – Ioannina
454 – Ioannina
455 – Agios Dimitrios, Anatoli, East Zagori, Bizani, Dodona, Ekali, Ioannina Island, Pamvotida, Pasaronas, Perama, Sella and Tzoumerka
456 through 459 – not used
460 – Thesprotia, excl. Igoumenitsa

00 through 29 – not used
30 – Margariti
31 – Acherontas and Samonida-Glykis
32 through 99 – not used

461 – Igoumenitsa, Parapotamos, Perdika and Syvota
462 – Paramythia
463 – Filiates and Sagiada
464 through 469 – not used
470 – Arta

01 through 39 – not used
40 – Kompoti
41 – Arachthos
42 – Filothei
43 – Agnanta
44 – Iraklia
45 – Athamania and Theodoriana
46 – not used
47 – Tetrafylia
48 – Georgios Karaiskakis
49 – not used
50 through 99 – not used

471 – Arta, Amvrakikos, Kommeno, Melissourgoi and Vlacherna
472 – Peta
473 through 479 – not used
480 – Preveza, Zalongo

01 through 59 – not used
60 – Parga
61 – Louros
62 – Fanari
63 through 99 – not used

481 – Preveza
482 – Anogeio, Xirovouni, Filippiada and Vathypedo
483 – Kranea, Thesprotiko
484 through 489 – not used
490 – Corfu prefecture

00 through 79 – not used
80 – Korissia and Lefkimmi
81 – Esperion, Meliteieis
82 – Paxoi
83 – Agios Georgios, Corfu, Faiakes, Palaiokastritsa
84 – Achilleio
95 through 99 – not used

491 – Corfu, Erikoussa, Kassiopi, Mathraki, Othonoi, Parelii and Thinali
492 through 499 – not used
500s: Central, Northwestern, Western and Southern Macedonia excluding southeastern Grevena
500 – Kozani prefecture

01 – Neapoli
02 – Tsotyli
03 – Askio
04 – Aiani or Aiane
05 – Mouriki
06 – Komnina
07 – Arrernes and Pentalofos
08 – not used
09 – Vlasti or Blasti
10 – Elimeia
11 through 99 – not used

501 – Kozani and Koilada
502 – Ptolemaida, Agia Paraskevi and Dimitrios Ypsilantis
503 – Siatista
504 – Velventos
505 – Servia, Kamvounia and Livadero
506 through 509 – not used
510 – small parts of the Grevena area

01 through 29 – not used
30 – Irakleotes
31 – not used
32 – Polyneri, Mesolouri
33 through 99 – not used

511 – Grevena, Chasia, Dotsiko, Filippi, Gorgiani, Kosmas o Aitolos, Perivoli, Samarina, Theodoros Ziakas and Ventzio
512 – Deskati
513 through 519 – not used
520 – most of the Kastoria area

01 through 49 – not used
50 – Kastraki
51 – Nestorio
52 – Agioi Anargyroi
53 – Ion Dragoumis
54 – Kleisoura
55 – Korestia
56 – Makednoi
57 – not used
58 – Akrites and Aliakmonas
59 – Vitsi
60 through 69 – not used

521 – Kastoria and Agia Triada
522 – Orestida
523 through 529 – not used
530 – most of the Florina area

01 through 69 – not used
70 – Filotas
71 – Meliti
72 – not used
73 – Lechovo
74 – not used
75 – Aetos
76 – not used
77 – Krystallopigi and Prespes
78 – Nymfaio
79 through 99 – not used

531 – Florina, Kato Kleines and Perasma
532 – Amyntaio
533 through 539 – not used
540 – Thessaloniki
541 – Thessaloniki
542 – Thessaloniki
543 – Thessaloniki
544 – Thessaloniki
545 – Thessaloniki, Kallithea, Mygdonia
546 – Thessaloniki
547 – Thessaloniki
548 – Thessaloniki
549 – Thessaloniki
550 – Thessaloniki
551 – Thessaloniki, Kalamaria
552 – Thessaloniki, Panorama and Pylaia
553 – Thessaloniki, Triandria
554 – Thessaloniki, Agios Pavlos
555 – Thessaloniki, eastern part
556 – Thessaloniki, eastern part
557 – Thessaloniki, eastern part
558 – Thessaloniki
559 – Thessaloniki
560 – Thessaloniki, northern part
561 – Ampelokipoi, Menemeni
562 – Eleftherio-Kordelio, Evosmos and Neapoli
563 – Thessaloniki
564 – Efkarpia and Stavroupoli
565 – Polichni
566 – Sykies
567 – Thessaloniki area
568 – Thessaloniki area
569 – Thessaloniki
570 – Thessaloniki prefecture except for the Thessaloniki Metropolitan Area

01 – Thermis and Pikrolimni
02 – not used
03 – Agios Athanasios
04 – Michaniona
05 – Sochos
06 – Vasilika
07 – Chalkidona
08 – Echedoros
09 – not used
10 – Chortiatis, Pefka and Rentina
11 – not used
12 – Kallindoia and Koroneia
13 – Oraiokastro
14 – Lachana, Madytos
15 – Apollonia
16 through 18 – not used
19 – Thermaikos
20 – not used
21 – Asprovalta
22 through 99 – not used

571 – Thermi, Koufalia
572 – Lagkada, Assiros and Vertiskos
573 – Chalastra, Kymira and Profiti
574 – not used
575 – Mikra
576 through 579 – not used
580 – Pella Prefecture

01 – not used
02 – Arnissa, Panagitsa
03 – not used
04 – Exaplatanos
05 – Pella
06 through 99 – not used

581 – Giannitsa and Kyrros
582 – Edessa
583 – Megas Alexandros and Krya Vrysi
584 – Aridaia
585 – Skydra and Meniida
586 through 589 – not used
590 – Imathia prefecture

01 through 30 – not used
31 – Meliki and Vergina
32 – Platy
33 – Apostolos Pavlos
34 – Eirinoupoli
35 – Anthemia
36 through 99 – not used

591 – Veria (Verroia), Antigonides, Dovras and Makedonida
592 – Naoussa
593 – Alexandria
594 through 599 – not used
600s: Central, Eastern, Northern, Southern Macedonia and Thrace
600 – Pieria area

01 through 60 – not used
61 – Kolindros
62 – Korinos
63 – Anatolikos Olympos
64 – Pydna
65 – not used
66 – Methoni
67 through 99 – not used

601 – Kallithea, Katerini, Kondariotissa, Paralia, Petra and Pierion
602 – Litochoro
603 – Aiginio
610 – Kilkis Prefecture

01 – not used
02 – Cherso and Evropos
03 – northern part including Doirani and Mouries
04 through 99 – not used

611 – Kilkis, Gallikos and Kroussa
612 – Polykastro
613 – Goumenissa
614 – Axioupoli and Livadia
615 through 619 – not used
620 – Serres prefecture

01 through 40 – not used
41 – Amphipolis and Rodolivos
42 – Nea Zichni
43 – Petritsi
44 – not used
45 – Alistrati
46 – Emmanouil Pappas
47 – Kormista and Proti
48 – not used
49 – Tragilos
50 and 51 – not used
52 – Kerkini
53 – not used
54 – Strymoniko
55 through 99 – not used

621 – Serres, Ano Vrontou, Kapetan Mitrousi, Lefkonas, Oreini, Skotousa, Skoutari and Strymonas
622 – Nigrita, Achinos and Visaltia
623 – Sidirokastro, Achladochori, Agkistro and Promachonas
624 – Heraklia
625 through 629 – not used
630 – Chalkidiki prefecture except Polygyros and Nea Moudania

01 through 70 – not used
71 – Ormylia
72 – Toroni
73 – Anthemountas
74 – Zervochoria
75 – Stagira-Akanthos
76 – Panagia
77 – Kassandreia
78 – Agios Dimitrios
79 – Triglia
80 – Kallikrateia
81 – Nea Marmara
82 through 84 – not used
85 – Pallini
86 and 87 – not used
88 – Sithonia
89 through 99 – not used

631 – Polygyros
632 – Nea Moudania including Potidaea
633 through 639 – not used
640 – Kavala prefecture

01 – Pangaio
02 – not used
03 – Filippoi
04 – Thasos
05 and 06 – not used
07 – Eleftheres
08 – Orfani and Piereis
09 – Oreino
10 – Thasos
11 – Keramoti

641 – Eleftheroupoli
642 – Chrysoupoli
643 through 649 – not used
650 – Kavala
651 – Kavala
652 – Kavala
653 – Kavala
654 – Kavala (centre)
655 – Kavala
656 through 659 – not used
660 – Drama prefecture

00 through 30 – not used
31 – Kalampaki
32 – Paranesti
33 – Kato Nevrokopi
34 – Sitagroi
35 – not used
37 – Nikiforos
38 – Sidironero
39 through 99 – not used

661 – Drama
662 – Prosotsani
663 – Doxato
664 through 669 – not used
670 – Xanthi

00 through 60 – not used
61 – Abdera
62 – Stavroupoli
63 – not used
64 – Vistonida
65 through 69 – not used

671 – Xanthi, Myki and Selero
672 – Topiros
673 – Kotyli, Satres and Thermes
674 through 679 – not used
680 – Evros Prefecture

01 – Samothrace or Samothraki
02 – not used
03 – Tychero
04 – Orfeas
05 – Kyprinos
06 – not used
07 – Trigono
08 and 09 – not used
10 – Metaxades

681 – Alexandroupoli
682 – Orestiada
683 – Didymoteicho
684 – Soufli
685 – Feres
686 through 690 – not used
691 – Komotini, Aigeiros, Fillyra and Neo Sidirochori
692 – Iasmos, Amaxades and Sostis
693 – Sapes, Kechros and Ariana
694 – Maroneia
695 – Organi
696 through 699 – not used
700s: Crete
700-720: Heraklio

700
701 – Archanes
702 – Heraklio
703 – Heraklio
704 – Heraklio
705 – Heraklio
706 – Heraklio
707 – Heraklio
708 – Heraklio
709 – Heraklio
710 – Heraklio
711 – Heraklio
712 – Heraklio
713 – Heraklio
714 – Heraklio
715 – Heraklio
716 – Heraklio
717 – Heraklio
718 – Heraklio
719 – Heraklio
720 – Heraklio

721 – Agios Nikolaos
730 – Chania prefecture

01 – Gavdos and Pelekanos
02 – Voukolies
03 – not used
04 – Kantanos and Platanias
05 – Mousouri
06 – Fres and Kolymvari
07 – Georgioupolis and Kryonerida
08 – Armeni and Vamos
09 – Anatolikos Selinos
10 – not used
11 – Sfakia
12 – not used
13 – Innachori
14 through 99 – not used

731 – Chania, Akrotiri, Keramioi, Nea Kydonia, Platanias and Theriso
732 – Souda
733 – Eleftherios Venizelos
734 – Kissamos
735 through 739 – not used
740 – Rethymno prefecture except for Asi Gonia
741 – Rethymno/Rethymnon
800s: Kythira and The Aegean
801 – Kythera, Antikythera
810 – not used
811 – Lesbos island except Atsiki and Eressos-Antissi

00 – Mytilene
01 – Agiassos
02 – Agia Paraskevi
03 – not used
04 – Mantamados
05 – Evergetoulas
06 – Gera
07 – Kalloni
08 – not used
09 – Petra
10 through 99 – not used

812 – Plomari
813 – Polichnitos
814 – Lemnos island including Atsiki and Eressos-Antissi

00 – Myrina and Nea Koutali
01 – Atsiki, Eressos-Antissi and Moundros

815 – Agios Efstratios
816 through 820 – not used
821 – Chios island

00 – Chios, Agios Minas, Ionia and Kampochora
01 – not used
02 – Mastichochoria
03 – Amani and Oinousses
04 – Psara
05 through 99 – not used

822 – Vrontados
823 through 830 – not used
831 – Samos islands

00 – Vathy or Samos
01 – not used
02 – Marathokampos
03 – Pythagoreio

832 – Karlovassi
833 – Icaria

00 – Agios Kirykos
01 – Fourni Korseon and Raches
02 – Evdilos

840 – Cyclades

01 – Ios
02 – Kea and Serifos
03 – Sifnos
04 – Kimolos
05 – Livadi
06 – Kynthos, Mykonos
08 – Amorgos
09 through 99 – not used

841 – Syros island including Ermoupoli, Ano Syros and Episkopi Posidonias
842 – Tinos island including Exomvourgo
843 – most of Naxos island, Donoussa island

02 – Chalkio
03 through 99 – not used

844 – Paros
845 – Andros

01 – Ydrousa
02 – Korthio
03 through 99 – not used

846 – Mykonos
847 – Santorini island including Thira
848 – Milos
840 – not used
850:
851: Rhodes City

01 – Agathonissi and Ialyssos
02 – Archangelos
03 – Afantou
04 – Petaloudes
05 – Kallithea
06 – Kameiros
07 – Lindos
08 – not used
09 – Attavyros and Notia Rodos
10 – Chalki
11 – Megisti

852 – Kalymnos
853 – Dikaio

02 – Irakleides
03 – Nisyros

854 – Leros
855 – Patmos
856 – Symi
857 – Kassos and Olympos
858 – Karpathos
859 – Astypalaia
860 through 899 – not used