Chania Airport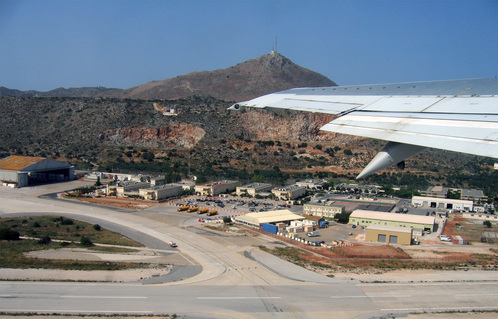 Chania Airport
Chania Airport, Official guide for the airport Chania in Crete
Chania Airport Information
The Chania International Airport is located about nine miles to the east of Chania on the peninsula which partially surrounds Souda Bay. Signs on the main coastal roads will indicate the "Aerodromio" just after you pass Souda Bay.
As Chania Airport does directly serve international flights, there is a full customs inspections service operating.
Checking your bags through? The airport code on the tags should be CHQ or LGSA.
The operations office telephone is 30 282106 3418 or 30 28210 83803.
Getting to Chania from the Airport
There is a bus into Chania costing 1 Euro though the schedule varies and the bus stop is just outside the airport itself. A taxi will cost about 16 Euro, an appalling price for what is a quick trip but it may be your best option.
Chania is especially popular with Americans visiting relatives stationed at the Souda Bay base nearby. It handles about a million and a half visitors annually. Many of these are charter flights run by UK package travel companies; sometimes excess seats on these flights are sold off cheaply. You can investigate this here. Thomsonfly also offers flights to Chania.
Chania Airport, Greece, GR-731 00 Chania, Greece
Tel: (Airport Operations) +30 2821 06 3418, +30 2821 08 3803
Tel: (Airport Manager) +30 2821 06 3224, +30 2821 08 3801
Tel: (Communications) +30 2821 06 3245, +30 2821 08 3800
Fax: +30 2821 06 6100
email: kaxntl@otenet.gr
Telex: (Communications) 0291 144
SITA: CHQKMOA
AFTN: LGSAYDYX
Managing Director: Alexandros Panagiotopoulos +30 2821 08 3801
Operations Director: Em Haralambakis +30 2821 08 3803
Air Traffic Controller: I Hadjia Nastassiou +30 2821 06 3990
Public Relations Manager: Em Haralambakis
Security Manager: E Kastanakis +30 2821 08 3803
Operator: Hellenic Civil Aviation Authority/Hel Air Force
Airport Data: International, Chania 15km (9miles), Position 35°31´54″N, 024°08´59″E, Elevation 149m (488ft), Operating hours As per Notam (Win 04:00-21:00 Sum 03:00-21:00), 1 Passenger Terminal, 6 Aircraft Stands
Customs Tel: +30 2821 06 6000, +30 2821 08 3816
Fax: +30 2821 08 9177
Customs Hours: As Airport
Airfield Data: Fire Category 7
Navigational Aids: VOR-DME, NDB, TACAN
Airfield Restrictions: Military airfield
Runway 1: Heading 11/29, 3 347m (10 980ft), 53/F/B/X/U, ICAO Cat. 4D, Aircraft size max: DC-10, MD-11, Lighting: Threshold, Edge, End, LIH – PAPIS
Airlines Serving Airport: Aegean Airlines, Olympic
Cargo Facilities: Domestic Cargo Only, Refrigerated Storage, Mortuary, Health Officials, X-Ray Equipment, Military Airfield – see AIP Greece AGA 2-4-3, 1-3
Passenger Facilities: Annual Capacity 1 330 000, 12 check-in desks, 5 gates, 3 baggage claim belts, 240 short term parking spaces, 100 long term parking spaces, Post Office, Bank, Bureau de Change, Bars, VIP Lounge, Duty Free Shop, Newsagent/Tobacconist, Gift Shop, Travel Agent, Tourist Help Desk, Car Rental, Taxi Service/Rank, First Aid, Baby/Parent Room, Disabled Access/Facilities
Tags: airport, chania, chania-airport, crete